Contact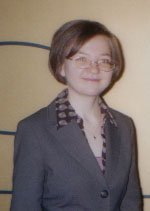 New:
Presentation:
"Breaking and Fixing Keyless SSL" (SoSySec seminar in Rennes in Oct. 2016)
YouTube
Research interests
I am a Post-Doc at IRISA/INSA in Rennes, France, and have graduated as Dr. Rer. Nat. at CASED, in Germany.
My main research interests lie in the area of provable security, particularly in the areas of key-exchange, authentication (one-sided or mutual), secure channel establishment, and distance-bounding. My thesis, written under the supervision of Prof. Dr. Marc Fischlin was entitled "Security Aspects of Distance-Bounding Protocols", and its main topic was defining a unified framework to model security aspects in distance bounding.
My current research focuses on the provable security of real-world protocols, including TLS (link to my paper with Björn etc. from publications), the AKA protocol used in 3G/4G networks, and protocols used in real-world distance-bounding scenarios.
Other research interests include systems of reputation, anonymous credentials, and digital signatures that preserve some degree of privacy/anonymity.
Publications
Publications in cryptography:
G. Avoine, X. Bultel, D. Gerault, S. Gambs, P. Lafourcade, C. Onete, J.-M. Robert: A Terrorist-fraud Resistant and Extractor-free Anonymous Distance-bounding Protocol. Accepted at AsiaCCS 2017. Full paper
K. Bhargavan, I. Carlson, P.-A. Fouque, C. Onete, and B. Richard: Content Delivery over TLS: A cryptographic analysis of Keyless SSL. Accepted at EURO S&P 2017.
S. Alt, P.-A. Fouque, G. Macario-Rat, C. Onete, and B. Richard: A Cryptographic Analysis of UMTS/LTE AKA Protocol. Accepted at ACNS 2016. Springer
X. Bultel, S. Gambs, D. Gerault, P. Lafourcade, C. Onete, and J.-M. Robert: A Prover-Anonymous and Terrorist-Fraud Resistant Distance Bounding Protocol. WiSec 2016. ACMFull paper
P.-A. Fouque, C. Onete, and B. Richard: Achieving Better Privacy for the 3GPP AKA Protocol. PoPETS 2016. De Gruyter
M. Kohlweiss, U. Maurer, C. Onete, B. Tackmann, and D. Venturi: TLS 1.3 — Ready or Not?. TRON 1.0, 2016.
S. Gambs, M.-O. Killijian, C. Lauradoux, C. Onete, M. Roy, and M. Traoré: VSSDB: A Verifiable Secret-Sharing and Distance-Bounding Protocol. Will appear in proceedings of BalkanCryptSec 2015.
A. Mitrokotsa, C. Onete, S. Vaudenay: Mafia Fraud Attack against the RC Distance-Bounding Protocol. Conference on RFID-Technologies and Applications RFID-TA'12 IEEEFull paper
C. Fontaine, S. Gambs, J. Lolive, C. Onete: Private Asymmetric Fingerprinting: a Protocol with Optimal Traitor Tracing using Tardos Codes, Accepted to LatinCrypt 2014.
S. Gambs, C. Onete, and J.M. Robert: Prover Anonymous and Deniable Distance-Bounding Authentication. Proceedings of AsiaCCS 2014, pp. 501-506 ePrintACM
M. Kohlweiss, U. Maurer, C. Onete, B. Tackmann, D. Venturi: (De-)Constructing TLS. Accepted at Indocrypt 2015. ePrint
Ö. Dagdelen, M. Fischlin, T. Gagliardoni, G. A. Marson, A. Mittelbach, and C. Onete: A Cryptographic Analysis of OPACITY. Ext. abstract, ESORICS 2013, pp. 345-362 SpringerePrint (full version)
A. Mitrokotsa, C. Onete, and S. Vaudenay: Location Leakage in Distance Bounding: Why Location Privacy does not Work. ePrint
M. Fischlin and C. Onete: Terrorism in Distance Bounding: Modeling Terrorist Fraud Resistance. ACNS 2013, pp. 414-431. SpringerFull paper
M. Kohlweiss, U. Maurer, C. Onete, B. Tackmann, and D. Venturi: Anonymity-preserving Public-Key Encryption: A Constructive Perspective. Ext. abstract, PETS 2013, pp. 19-39. SpringerePrint (full version)
M. Fischlin and C. Onete: Subtle Kinks in Distance-Bounding: an Analysis of Prominent Protocols. WiSec 2013, pp. 195–206. ACMePrint
J. Hermans, R. Peeters, and C. Onete: Efficient, Secure, Private Distance Bounding without Key Updates. WiSec 2013, pp. 207–218. ACMFull paper
C. Onete: Key Updates for RFID Distance-Bounding Protocols: Achieving Narrow-Destructive Privacy. ePrint
M. Fischlin and C. Onete: RFID Distance-Bounding: What is Wrong and How to Fix it. Accepted to 5th MPICC Interdisciplinary Conference on Current Issues in IT Security, 2012. Full paper
C. Onete and D. Venturi: Security & Indistinguishability in the Presence of Traffic Analysis ePrint
U. Dürholz, M. Fischlin, M. Kasper, and C. Onete: A Formal Approach to Distance-Bounding RFID Protocols. ISC 2011, pp. 47–64. SpringerePrint (full version)
M. Fischlin and C. Onete: Relaxed Security Notions for Signatures of Knowledge. ACNS 2011, pp. 309–326. SpringerFull paper
C. Brzuska, H. Busch, Ö. Dagdelen, M. Fischlin, M. Franz, S. Katzenbeisser, M. Manulis, C. Onete, A. Peter, B. Poettering, and D. Schröder: Redactable Signatures for Tree-Structured Data: Definitions and Constructions. ACNS 2010, pp. 87–104. SpringerFull paper
Publications in electrical engineering (
DBLP
):
C.N. Onete and C. Onete: Building Hamiltonian Networks Using the Cycles Laplacian of the Underlying Graph. ISCAS 2015 (Accepted, will appear in proceedings).
C.N. Onete and C. Onete: Finding ground traces using the laplacian of the meshes of the associated graph. SOCC 2013. IEEE
C.N. Onete and C. Onete: Finding spanning trees and Hamiltonian circuits in an un-oriented graph: an algebraic approach. ECCTD 2011. IEEE
C. Onete and C.N. Onete: A novel condition for Hamiltonicity; constructing Hamiltonian Circuits. EUROCON 2011. IEEE
C.N. Onete and C. Onete: Enumerating all the spanning trees in an un-oriented graph – a Novel approach. SM2ACD 2010. IEEE
C.N. Onete and C. Onete: Indefinite Matrices of Linear Electric Circuits, their Pseudoinverses, and Applications in Related Fields. IEEE
Reviewing and organising
Co-organizer of CrossFyre 2014
Co-organizer of CrossFyre 2013
Co-organizer of CrossFyre 2012
Organizer of CrossFyre 2011 (A workshop for cryptography for young female researchers)
Organizer of the CIDRE Seminar on Privacy
Subreviewer for:
CRYPTO: 2009, 2012
Eurocrypt: 2012, 2013
Asiacrypt: 2010, 2012, 2013
PKC: 2011, 2013
ACNS: 2014
AsiaCCS: 2014
SCN: 2010
CT-RSA: 2010, 2011, 2013
ProvSec: 2011
Reviewer for:
Elsevier Computers and Security (COSE): 2013, 2014
IEEE Communication Letters: 2013, 2014
KSII Transactions on Internet and Information Systems: 2013
Reviewer for the IACR book systems. I have reviewed:
Supervision
Ph.D. co-supervision
A. Guellier (from 05/2014)
Master project co-supervision
Carlos Eduardo Rosar Kos Lassance (from 10/2014): Implementing distance-bounding protocols on smartphones
S. Capmarti (03/2014 - 07/2014): Relay Attacks on the Mifare Plus card
VET project co-supervision
G. Gauvrit, J. Guermonprez, S. Piton, J. Sicre: How Secure is your TLS
---